Bachem: a new chemical production unit
Bachem is a Swiss-based biochemical company that serves the pharmaceutical and biotechnology industries. It develops processes and manufactures peptides and organic molecules as active pharmaceutical ingredients. SP Groups accompanied the growth of Bachem in its early stages.
Bachem was commissioned by one of its customers to produce a new molecule. The problem? The existing facilities alone could not handle the client's production and tonnage requirements.

It was essential to increase production capacity! Drawing on the strength of our long-standing relationship with Bachem and our expertise in their sector, we were chosen to devise the project to create a new production area.
We first had to glean and analyse Bachem's needs through its User Requirements Specification (URS) before kicking off the concept phase. After having pre-sized the main equipment, we installed it in the allotted area (half the building was unoccupied until then). The next steps entailed listing and budgeting for the equipment needed to produce the new molecule.
We also conducted a 3D scan to update the model of the existing building. This enabled us to identify a number of changes which had not yet been listed, and to design the new project model.

The project's phases were:
Concept design

Basic design

Detailed study

Drafting of specifications

Request for proposals from suppliers and comparison

Execution follow-up
We considered equipment operating safety, operability and workstation ergonomics (valves and hoses in the right place, circulation space for pallet lifters, etc.) during all design phases.

To meet the safety, performance and speed challenges, we drew on the expertise of our engineers and partners within the framework of Project Owner Assistance:

The process part was carried out by SP Groups

Electrical and ventilation studies were subcontracted

The civil engineering part for the installation of a metal structure was sub-contracted after SP Groups supplied a layout
Given the risk of working with solvents in an explosive environment, we also performed an ATEX analysis and conducted process risk analysis sessions. They served to secure a precise, methodical and exhaustive assessment of possible risks and put corrective action in place where necessary.

We helped Bachem increase its capacity by setting up a new chemical production area. More specifically, production was doubled compared to the original building, representing a 10% increase in production capacity across the entire site.

Since we were dealing with "aggressive" chemistry, we had to install four industrial reactors, three of which were made of enamelled steel. The material was specifically chosen for its excellent properties of corrosion resistance, non-sticking and non-contamination of the active ingredient.

However, we paid the greatest attention to the installation of this technology because it is extremely fragile (impossible to move once installed) and much more expensive than stainless steel.

Our first and foremost goal throughout the project was to find the best equipment. From reactors to piping, tanks, condensers and pumps, everything was analysed before sizing.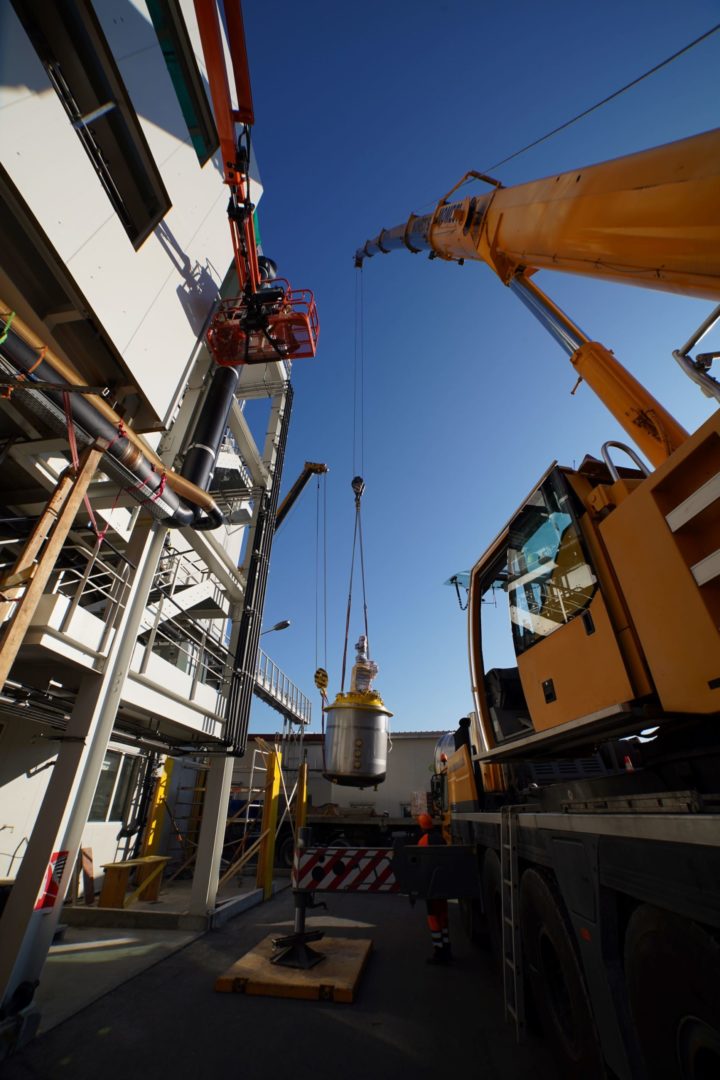 70
tonnes in the building in addition

1,5
kilometres of ductwork
3
kilometres of electrical cables
"Installing 4 reactors and 4 tanks was quite a challenge during both the studies and the construction phase: it is always daunting to have to install equipment weighing over 10 tonnes with crane lorries in a confined space.

Xavier Pignal-Jacquard.
Do you have a fine chemicals project for us?
Let's talk about it!