SCADA, Geneva airport: new baggage sorting system

Geneva airport is Switzerland's second largest airport. The airport has undergone a steady increase in passenger traffic since 2002, prompting renovation and expansion work. Faced with an obsolete baggage sorting monitoring system, the airport sought out our services.

Geneva Airport wanted to make their EMS (Environment Monitoring System) more reliable and also more agile in terms of upgrades and maintenance. The hitch? The original company that created this system no longer exists.

A system overhaul project entailing seamless changes would thus prove extremely challenging. Given that the SCADA product we are developing has good references in the airport environment, Geneva Airport opted to put its trust in us.
The baggage sorting system occupies centre stage from check-in to loading into the aircraft's hold. There are many issues at stake:

Baggage must be brought to their destination with the highest level of care

Operators need access to real-time information in a very responsive manner

The system must adhere to safety regulations
We addressed these challenges of reliability, efficiency and speed by first conducting an initial audit phase coupled with a Proof of Concept (PoC) approach to identify users and their uses, and also ensure system feasibility: Who are they? How do they use the system? What are their needs?
We also organised workshops in a co-construction and co-design approach to iteratively include users. The second stage enabled users to assume an engaged oversight role, which empowered them as ambassadors in their dealings with colleagues.

This project required us to combine different skills and form a multidisciplinary team around conceptualisation, automation, IT and System Platform Architecture.

The project's remaining phases were:
Detailed study, i.e. specification of the selected system

Implementation, i.e. programming of the selected system

FAT validation and tests on the platform


Commissioning, installation of servers, software, client workstations, etc.

SAT validation and field tests
The solution entailed installing a Wonderware System Platform SCADA system. This HMI/SCADA system is designed to anticipate the needs of operators, while providing them with quick and intuitive information for better decision-making. Its ergonomic interface simplifies the baggage safety and security screening process.

Interactions were streamlined with a new messaging system implemented via SCADA: now users can send messages, monitor current or future interventions on the facilities, receive notifications by e-mail or via other software, and add information to the internal monitoring system.
During the audit and PoC phase, we realised that there was a real need for users to exchange information with each other, especially when they were unable to actually meet. Until only recently, their only communication tool had been an agenda for scheduling events.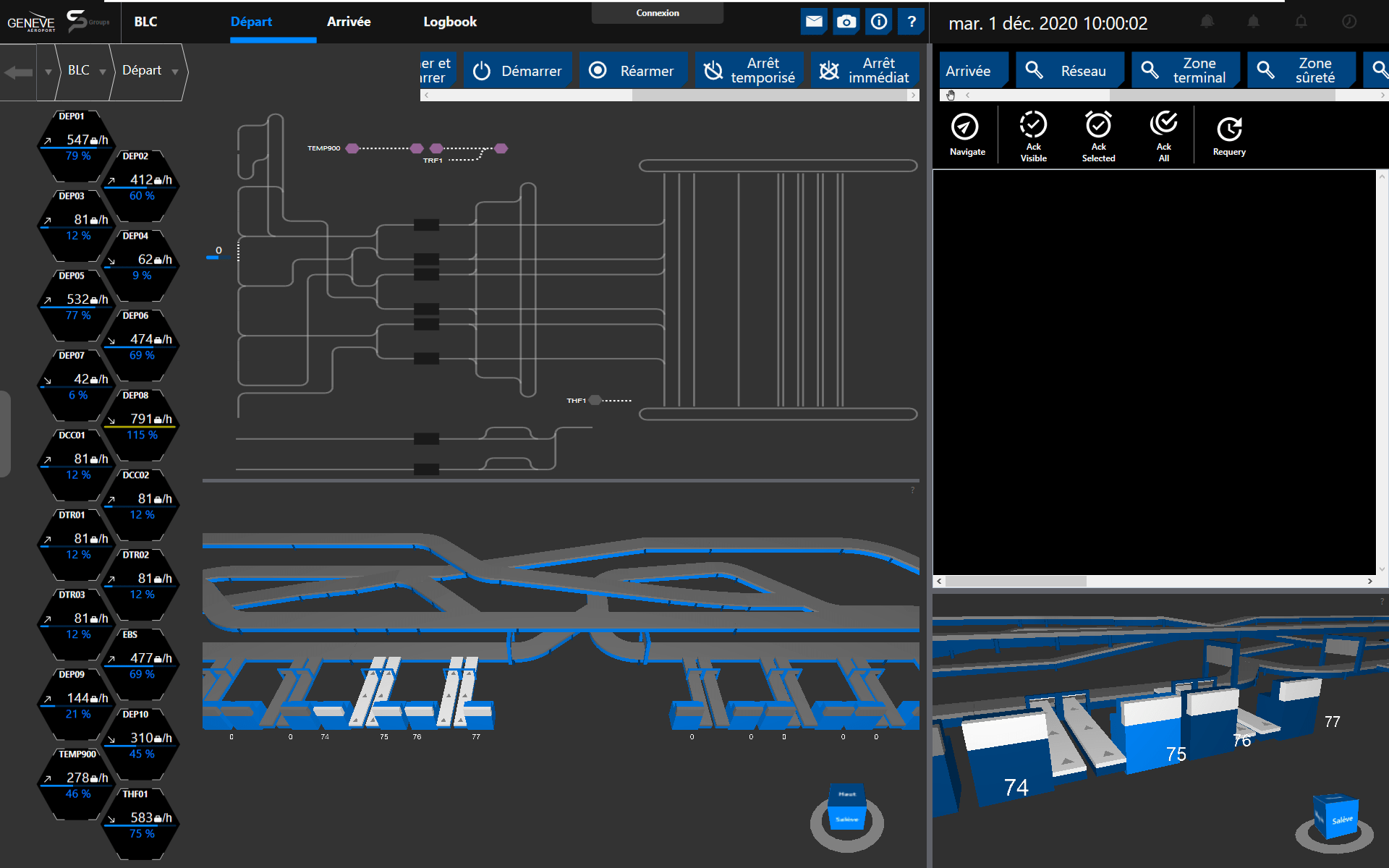 As a result, users can communicate with each other quickly, ensuring greater responsiveness. This new system also means that maintenance technicians and operators can deal with incidents or malfunctions more quickly.
We have also developed a further feature: alarm management. The former system could not prioritise information and generated way too many alarms. The SCADA system enabled us to contextualise by zone and alarm type so we could group together the necessary information.
Operators now have access to a number of actions based on location-based alarms, regardless of whether they are faults or other events.
200
sensors installed / Total site coverage
"This truly challenging project was both innovative and motivating, since the client gave us a great deal of freedom of action!

Adrien Dirand

automation and IT engineer
Are you looking to commission us for your airport project?
Let's talk about it!